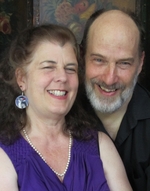 The World Community Press is owned by Peter Falkenberg Brown and Kimmy Sophia Brown. Peter and Kimmy Sophia serve as Co-Publishers and Senior Editors. Kimmy Sophia also serves as the Content Curator of The Significato Journal, working with writers and curating content, as well as contributing her own content.
You can read Peter's Bio here.
You can read Kimmy Sophia's Bio here.
(Kimmy's former byline was "Kim Korman Brown".)
They founded The World Community Press (WCP) in 1992 (under a different name).
WCP's primary mission is to support the establishment of a peaceful world, based on the virtues of love, kindness, compassion, and the creation and propagation of beauty. To that end, we publish books, as well as the online journal, "Significato ~ nectar for the soul." "Significato" is the Italian word for "meaning" or "value", as in "the meaning of life". The Significato Journal resides at:
We write short stories and other literary items.
Peter also does public speaking on spiritual, mystical, and social issues.
Peter and Kim have four lovely children: Tymon, Grace, Ranin, and Tadin. And one lovely dog and a feisty cat.
Some Photos of the Founders (yes, that's us!)
a new opera gown
at the beach
summer time in Virginia Beach
back bay wildlife refuge
his clean cut days
so many operas...
... so little time
the opera went on without us
so, later, much later, we moved to Maine, with our four children, two dogs and one cat
do they have opera in Maine? Ayuh! But they have a lot more snow than opera! Oy vey!
After rededicating our marriage with new wedding rings, in the Shenendoah Mountains on
October 8, 2006
At the National Portrait Gallery in Washington, DC. After this cold, winter day, we all got sick.
But what a memory!