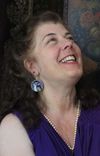 Zen Mothering: The Sound of One Head Pounding is a compilation of almost one hundred essays about life with children and a husband and dogs and cats and the adventures that then ensue.
Coming in 2021.
Kimmy Sophia Brown has loved humor and music and freedom for as long as she can remember.She is especially passionate about the environment and caring for animals.

She writes the column "From the Back Porch" as well as reviews of music in her column "MusicViews". Her goal in her music reviews is to introduce music she loves to people who may not have heard that particular artist or CD. For information about how to submit a CD for review, click here.