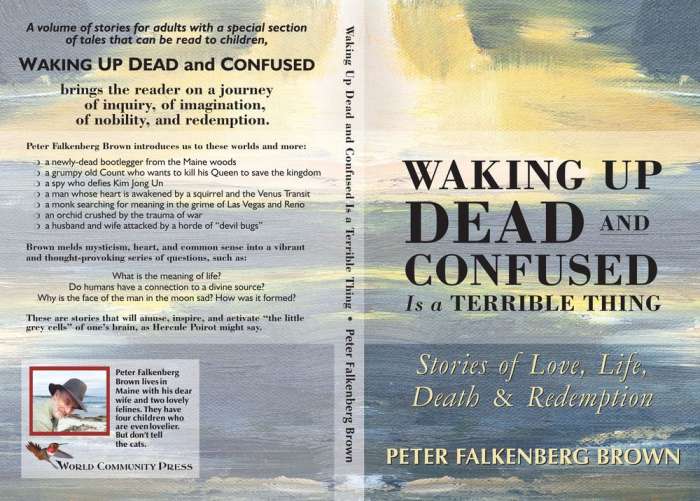 [Click on the image to see a larger version.]
Purchase Here:
https://www.amazon.com/Waking-Dead-Confused-Terrible-Thing/dp/0963570641
A volume of stories for adults with a special section of tales that can be read to children,
Waking Up Dead and Confused brings the reader on a journey of inquiry, of imagination, of nobility, and redemption.
Peter Falkenberg Brown introduces us to these worlds and more:
a newly-dead bootlegger from the Maine woods
a grumpy old Count who wants to kill his Queen to save the kingdom
a spy who defies Kim Jong Un
a man whose heart is awakened by a squirrel and the Venus Transit
a monk searching for meaning in the grime of Las Vegas and Reno
an orchid crushed by the trauma of war
a husband and wife attacked by a horde of "devil bugs"
Brown melds mysticism, heart, and common sense into a vibrant and thought-provoking series of questions, such as:
What is the meaning of life?
Do humans have a connection to a divine source?
Why is the face of the man in the moon sad? How was it formed?
These are stories that will amuse, inspire, and activate "the little grey cells" of one's brain, as Hercule Poirot might say.