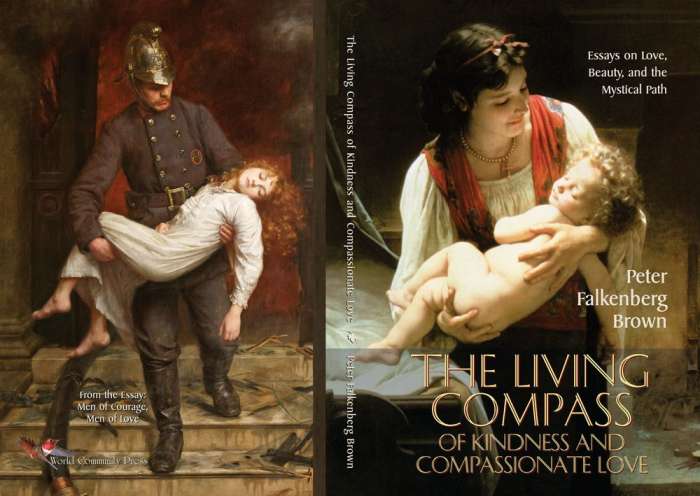 Click on image to see larger version.
Purchase Here:
https://www.amazon.com/Living-Compass-Kindness-Compassionate-Love/dp/096357065X
The Living Compass of Kindness and Compassionate Love is a book of essays (with a few poems) that explores the topics of love, beauty, and the mystical path. It is a book for people of all religions and no religion, for agnostics and atheists as well, because the author approaches these topics based on the concept that universal truths apply to all human beings, beyond religion, culture, nationality, or language.
This is the table of contents:
LOVE IS EVERYWHERE
The Living Compass of Kindness and Compassionate Love
Spirituality, Christianity, Other Religions, and Atheism
Moments of Love
Drinking from the Source of Love
Reflections on Drinking from the Source of Love
Poem: Green Leaves and Rubies
Happiness with Gratitude on Overdrive
The Golden Sphere Inside Us All
No One Can Stop Us from Loving Others
Divine Writing Message: My Love Takes the Long View. The Ten-Thousand-Year Long View.
Joyful Love
Poem: Blueprint of God
Can Humans Become Beings of Love?
To Carry Our Heart Through the World Like a Life-Giving Sun
The Power of Eternal Goals
Creating Beauty
Creating a Culture of Kindness
A Declaration on God and Freedom
In Defense of Love and Freedom
A World of Sacred, Eternal Human Beings
The Resurrection of Jesus and the Victory of Eternal Love
Poem: My Loyal Friend
SEARCHING FOR THE INDWELLING GOD
Is There a God and What Is God Like? Exploring the Evidence of Love
Poem: The Summit
Searching for the Indwelling God
The God Prayer: A Practical Method of Living with God
Divine Writing Communion and Journeying
Life Begins in God's Embrace
Poem: Inevitable Love
A Mystical Search for the Meaning of Crayons and White Paste
Salvation Through Love
The Soul and the Inherent Goodness of Humans
Finding God by Embracing God
The Healing of the World
The Breath of Love Embrace
Divine Writing Message: A Life of No Separation with God
Clinging to God's Love Forever
Poem: Indian Neck
The Omnipresence of the God of Love
The Closeness of God
The Beautiful Gifts of the Spirit World
Poem: Jesus Never Had No Peanut Butter Cup
MARRIAGE AND FAMILY AND THE GOD WHO CREATED EVERYTHING
Marriage and Family and the God Who Created Everything
God and Sacred Sexuality
Poem: Embracing God
Men Who Honor, Love, and Respect Women
Men of Courage, Men of Love
Ancient Rage and Divine Love
Maintaining an Atmosphere of Heart in Marriage
Poem: Sympathy Without Boundaries
Courtship 2.0
Poem: Eternal Love
Fidelity and True Love
Communication: The Conduit for True Love in Marriage
Poem: A Kiss Is the Door to Heaven
The Value of the Family School of Love
Poem: Sleepy Blue Flower
The Heart Within a Gift
Poem: Today We Traveled under the Trees
The Eternal Castle of True Love
EPILOGUE
Divine Writing Message: Love Is an Explosion of Joy!